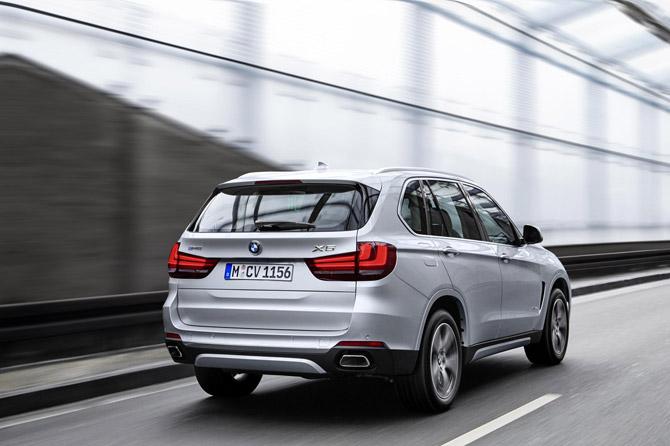 BMW has made the X5 more eco-friendly by giving it a touch of hybrid loving. But is it any good? Ben Griffin put the new SUV through its paces to find out.
Brits love a good SUV, which is why there are so many to choose from these days. But if there is one issue holding us back it's their percieved impact on the environment. No wonder, then, ultra-low emission variants are becoming more common, with BMW's X5 xDrive40e one of the most recent.
Essentially the plug-in hybrid X5 – also known as the X5 PHEV – is the same car with a hybrid powertrain that should make it cheaper to run, better for the ozone layer and much quieter when pulling up to the school gates.
But can it replace the tried and tested diesels and rival plug-in hybrids like the Volvo XC90?
Design
BMW gave the X5 a facelift and the result will divide opinion. But it does look fresh enough to differentiate it and the older model, while we like it's beefy styling and recogisable BMW touches like the double kidney grille.
The boxy proportions associated with SUVs helps with headroom and rear legroom and the X5 is no different. Those around the 6ft mark can sit in the back without being miserable and seats are comfortable for long journeys.
A touch of M bodystyling on this particular car means it's even more aggressive, while the larger alloy wheels are more imposing. It adds a touch of lairiness, making you more likely to look back at it admiringly after a drive.
You could argue the Volvo XC90 is a bit sleeker but those who want an SUV to look like an SUV may prefer the X5 and Range Rover. Whichever you go for, other motorists will definitely not miss you given their generous proportions.

Practicality
The BMX X5 is a big car and this is true of the hybrid version. Rear boot space is 500 litres, extendable to 1,720 litres with the rear seats down, making it competitive in its class.
Unfortunately the eco-friendliness of the hybrid powertrain does come at a cost and that's the option of a third row of seats, so extra large families will need to look elsewhere. This makes Volvo's XC90 T8 a better choice in this respect as it offers hybrid efficiency and seven seats.
Clawing back some points is the flat loading area and the 40:20:40 split folding rear seats, which make it easier to load certain items and retain seating for passengers. The automatic tailgate is also handy if your hands are full.

Performance & handling
The BMW X5 xDrive40e's hybrid powertrain is made up of a 2.0-litre four-cylinder turbocharged petrol engine that produces 245hp and an electric motor with 113hp, giving a total of 313hp and 450Nm of torque – 250Nm of which is instantly available.
BMW has worked wonders underneath the ridged bonnet. Acceleration is smooth and brisk when the electric motor is operating alone, and it's difficult to notice the 2.0-litre four-cylinder petrol kick in at all until you hit higher revs, at which point it gets a tad noisy.
A clever aspect of the xDrive40e is its ability to work out the best driving mode to suit current conditions or how you are driving, meaning it will give you both forms of propulsion if you are being very heavy-footed or stick to electric if you are crawling along in traffic.
0-62mph takes 6.8 seconds, which is impressive for a vehicle weighing 2,230kg. But then speed is probably going to be of lesser concern for eco-minded buyers and what you get is more than enough for legal speed limits, especially as it tops out at a limited 130mph.
Part of the seamless acceleration can be attributed to the eight-speed Steptronic transmission, which provides fast and smooth gear changes. Flappy paddles are standard on the M Sport and can be specced on the SE if you want to take over, but there's really no need.
BMW's xDrive all-wheel drive system is another plus as it distributes torque between the front and rear wheels as and when needed. Also, because it is linked to the Dynamic Stability Control system, it can counter oversteer and understeer, improving cornering ability.
It is a big car, make no mistake, but while you are aware of its bulk the X5 glides supremely well, while retaining some of the sportiness inherent in BMW's smaller offerings.

Economy & environment
Given the biggest draw of the xDrive40e is its hybrid nature, anyone wanting to cutback on fuel bills and CO2 emissions will be well served here. Ultra-short journeys can be catered for in the all-electric mode, which has a total range of 19 miles and allows a top speed of 75mph.
This gives the BMX X5 fuel economy of 94.2mpg if the 9kWh battery used for the electric motor is fully charged. The moment you go beyond 19 miles, economy drops dramatically. Over long journeys (above 37 miles) you can expect it to be as low as 25mpg.
This is hardly a deal-breaker, particularly if you're using the car primarily for short journeys such as dropping the kids off at school, and CO2 emissions are just 77g/km so it's free to tax, but long distance motorists will be served better by a diesel.
A full recharge of the X5 takes 3 hours and 50 minutes with a standard UK socket and 2 hours and 45 minutes with BMW's £560 i Wallbox (that price includes standard installation). Ensuring you have somewhere to plug it in, then, is important as the electric motor plays a significant role in keeping your fuel bill down.
On paper, the Volvo XC90 T8 would prove the better option for efficiency as it has a claimed fuel economy of 134.5mpg and 49g/km of CO2, although the latter figure only really benefits those who commute into central London as it sneaks in under the 75g/km limit that lets you avoid the Congestion Charge, and fleet users.
Equipment & value
Our test car was the M Sport version, which means it has an M bodykit, M steering wheel, adaptive M suspension, front sport seats with memory function and a black-panel instrument cluster that displays relevant hybrid-specific information such as the battery's state of charge and an eDrive (electric only) button.
Standard equipment for the range includes LED fog lights, Dakota leather upholstery, heated front seats, two-zone automatic climate control and an automatic tailgate so you don't even have to close the boot yourself.
An entry-level X5 xDrive40e starts from £52,105 for the SE model (£52,490 with the gearshift paddles), while the M Sport starts from £56,705 before any extras. That is a considerable premium on the smaller Mitsubishi Outlander PHEV, which starts from £29,249 rising to £40,499, including the £5,000 government plug-in grant.
That makes the BMW look pricey, especially when our test car and all its extras came in at £62,605, but it does have navigation as standard, has more interior space and a flat loading area. It can also tow up to 2,700kg, compared with the Outlander's 1,500kg.
A fairer comparison would be the XC90 T8 R Design costing from £60,455, which as we said before is better on fuel and more powerful but only has a 451-litre boot (although folding all seats down gives you 1,951 litres).
Our test car was also fitted with the £1,295 panoramic roof, £1,200 20-inch M Double-spoke alloy wheels, Harman Kardon sound system, £530 Surround-view and a £160 luggage compartment separating net. BMW's head-up display was missing, which is a shame as it's definitely worth having, mainly for the added convenience and safety benefits.
Safety
The X5 is a well-made car with big proportions so it should do well in the event of an accident. If you want more than airbags and cruise control with braking, you can spec Night Vision, Lane Change Warning, Parking Assistant, rear-view camera, Adaptive LED headlights and Collision warning with braking function, all of which make the car safer at a cost.
The fact a hybrid system tends to encourage smoother, slower driving will also naturally improve the safety for you and your passengers, although the instant torque of the electric motor could still get you into trouble if you are a bit over-zealous pulling away.
Conclusion
Based on our initial review, the BMW X5 is an extremely capable SUV that will appeal to drivers who need a lot of space and off-road capability but tend to favour short to medium journeys because this is the sweet spot for efficiency.
It looks as imposing as ever and while the interior lacks the panache of some of its rivals, it's comfortable, well-built and comes with a lot of interior kit as standard.
The BMW X5 is, therefore, worth a look if you have access to a plug in your garage or near your home. We certainly got out of the hybrid X5 feeling impressed.
Key Specs
2.0-litre four-cylinder turbocharged petrol and electric motor
313bhp
450Nm (331lb/ft)
0-62mph in 6.8 seconds
78g/km of CO2
Up to 94.2mpg
From £52,105 (£60,455 for model tested)