We recently spent a couple of days with MINI at the MINI Takes the States road trip event. We'll have a full report on what the MTTS is and what it was like participating for a few days, but in a nutshell it's a two week-long road trip with thousands of MINI owners driving throughout the entire country, stopping at racetracks along the way. It's fun, exciting and a good cause, at the entry fee for it is donated to the DefyHunger charity.
During my time in MTTS, I drove the all-new MINI Clubman Cooper S from Charlotte, North Carolina to Richmond, Virginia in one shot, while also spending some time at Charlotte Motor Speedway (where we hit well over 100 mph in the Clubman). We certainly did not take highways and only took back roads so the trip took about six hours, plenty enough time to get a good idea of what the Clubman Cooper S is. And what it is, to give a spoiler of this review, is one of the best MINIs I've ever driven.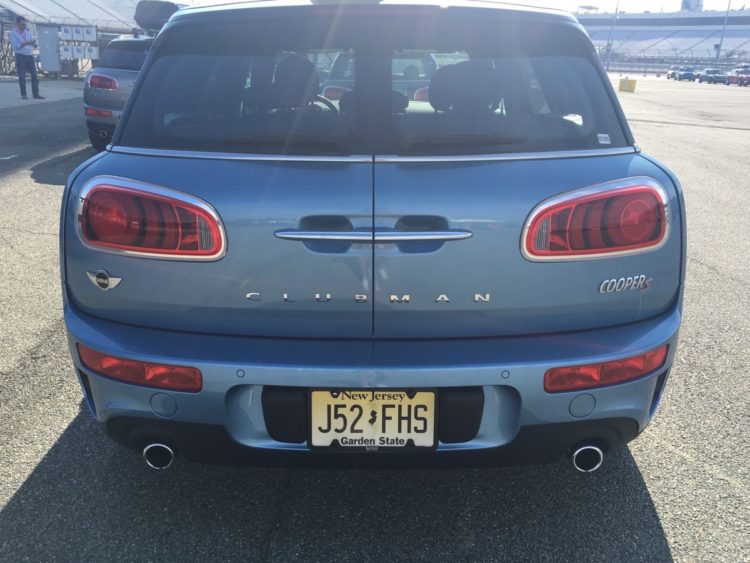 From the Outside
The biggest complaint car enthusiasts have of the MINI Clubman is that it isn't very…Mini. Yes, it's actually quite big for a MINI and by far the biggest car in the Oxford brand's lineup that isn't named Countryman. However, it's only big for a MINI and isn't actually a very big car. It also looks fantastic. Something about MINIs new design language works really well on the Clubman, as its longer length seems to wear the new style really well. The rear barn doors, despite being hopelessly impractical, look great and really set the Clubman aside from other hatchbacks on the road. Sometimes it's fun to have something that puts form over function and that's refreshing to see in the very serious, wind tunnel-driven car world we have today.
The Clubman I drove was wearing the Digital Blue paint job which looked excellent in contrast to the Black Star Spoke wheels. The contrast of the really light blue paint with the black roof, mirrors and wheels looked really cool. It looked really funky, which is exactly how a MINI is supposed to look. There are even some really nice little touches that make it feel more upscale, like the BMW-style air breathers on the front wheel wells. It's just a very handsome little car and one that looks more expensive than it is. When looking at a VW GTI, it looks like a car that costs under $30,000. The MINI Clubman looks premium and feels it, with solid feeling and sounding doors and handles, as well as top-notch build quality.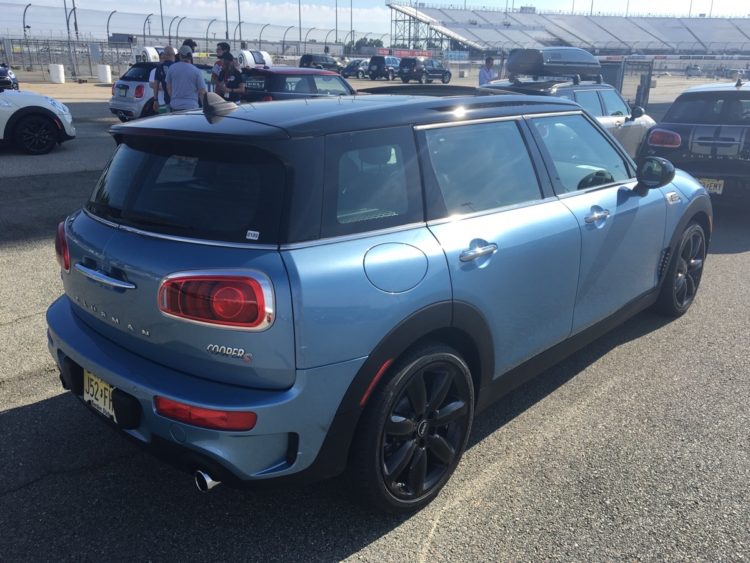 It's Bigger on the Inside
While driving around the country with literally thousands of MINI owners, one of the more common stickers I saw on cars was one that read "It's bigger on the inside". On no other MINI is that more true than the Clubman. Its front passenger space is far roomier than you'd think by looking at it from the outside. There was tons of headroom (admittedly, I'm only 5′ 9″) and plenty of space between the driver and front passenger. It's a car that can easily work on a long road trip, which we actually did do.
In the back, there's only room for two adults comfortably, but that's really to be expected in a MINI. Four adults can easily travel long distances in the Clubman without issue and there's plenty of rear legroom for averaged height adults. Taller people might be a little less comfortable, but it's still manageable. The trunk is also quite capacious and was capable of holding a ton of camera bags, luggage and equipment. Although, those barn doors really impede rearward visibility and I actually lost a guy on a motorcycle in the middle split and couldn't see him, which can get sketchy.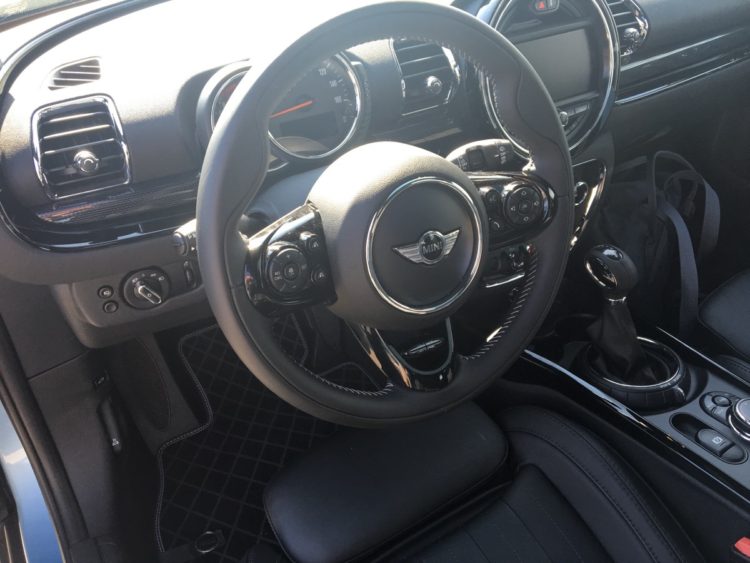 Also, and more importantly, this feels like a premium car on the inside. I've said it before, that MINIs now feel as premium as a BMW 2/3 Series on the inside, and this Clubman is a great example of that. The leather feels rich and the seats are superb. All of the materials that you touch feel great and expensive. If you hunt around, you'll find some cheap plastics and I have to say that after a few hundred miles, my left elbow was left hurting from the driver-side armrest. However, I can confidently say that this is the best cabin on the market for the money.
It Feels Like a MINI
While the MINI Clubman is much bigger than MINI fans are typically used to, it still feels every bit as MINI-like as the standard Cooper Hardtop. The model I sampled was the Clubman Cooper S, meaning it was packing BMW Group's B48 2.0 liter turbocharged four-cylinder engine, developing 189 hp and 207 lb-ft of torque. That may not sound like a lot to BMW enthusiasts, but it's far more than enough power for the Clubman to be fun. It's punchy low down and pulls hard to red-line. It also makes a good growly sound and definitely has character.
The 2.0 liter engine was paired to an Aisin-sourced eight-speed automatic in my test car. A six-speed manual is available, which would likely be more fun, but the eight-speed was a gem. Oddly enough, my car was completely loaded except for one option – paddle shifters. But shifting from the lever, with the proper forward for down and backward for up shifting configuration, was perfectly fine and the gearbox shifts really well. In auto mode, shifts are quick, smooth and always correct, as it never seemed to hunt for gears and was always in the right gear. My only gripe is that it will upshift on its own in manual mode if you hit the rev-limiter, which is annoying when driving quickly.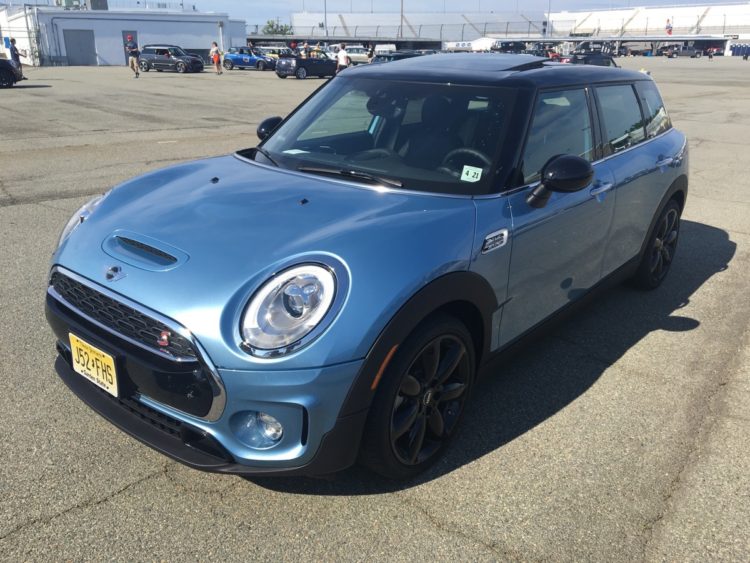 From behind the wheel, the Clubman feels every bit as go-kart-like as a MINI should. The steering is meaty and sharp and the front end bites really well with great accuracy. It certainly feels smaller than it looks and feels like a proper MINI should. Is it as accurate or as sharp as maybe a Cooper S Hardtop? Probably not, as this is the softer, more adult MINI. But it's still great fun and loves to be tossed around and driven hard. If anyone has any fears that the Clubman has lost that signature MINI feel, fear not because it's a great driving car and one that was incredibly enjoyable through twisty North Carolina back roads.
But the Clubman adds another dimension that other MINIs don't have, which is comfortable highway driving. Whereas the typical MINI Cooper can feel a bit too darty and twitchy on the highway, exacerbated with a usually hard suspension, the Clubman Cooper S felt beautifully composed even at triple-digit speeds (I swear I only did that on the track…). The Clubman is equally as at home on the highway at silly speeds as it is on twisty canyon roads. The suspension is really comfortable, even in Sport mode, and the longer wheelbase adds more stability to its ride at high speed and it feels much more grown up than the smaller MINIs.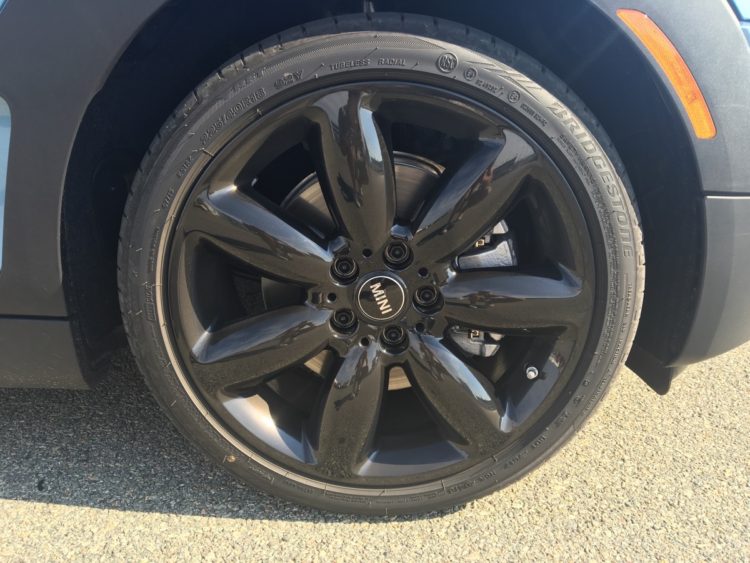 Overall Impressions
A lot of BMW enthusiasts feel that the MINI brand is beneath them, simply because its cars cost far less than most BMWs. However, one drive in a MINI Clubman should erase any sub-premium misconceptions. It feels much more expensive than it is and feels as premium as many BMWs. However, it still feels like a MINI. The MINI Clubman Cooper S is quick, incredibly fun to drive and funky looking, while also adding a more premium and grown up feel and look that sets it apart from its smaller siblings. If I had one complaint it's that it can get really expensive really quickly. While the Cooper S variant starts at $27,000, my tested model was closer to $40,000 than $30,000. However, there are easily half a dozen options I'd ditch to keep the price low without suffering any quality or performance losses.
This is the MINI for people with families and/or an active lifestyle who need some more space and comfort but don't want to sacrifice their typical MINI fun. If that sounds like you, I don't think there's a more perfect car than the MINI Clubman Cooper S.